The summer is on its peak, so is your plans to go on vacations with family or friends. Be it a road travel or by air, you deserve a peaceful, smooth and enjoyable travel. Regardless of the fact the number of times you have travelled or you might consider yourself a travel expert, your travel game should be up with the much-needed and best travel accessories in 2018.
You might have heard about various travel hacks by your loved ones on here on the internet, but today we are going to share with you travel accessories that every traveler- yes every traveler- should possess. So, before you make irreversible decision to travel, make sure you have the following, or few, travel accessories that ensure you travel with fun and ease!
Best Travel Accessories You Must Buy
1. Travel Packing Cube System:
Packing is the biggest task before travelling. It can even give you goosebumps when you think about unpacking and not being able find your favorite bikini. Or realizing that your socks were jumbled up in the clothes of your kids! To avoid this nightmare, consider investing in packing cube system, one of the best travel accessories every family should keep. We love this travel accessory because:
It comes in various sizes that make your packing more practical and easy.
You can pack yours and your kids' clothes separately.
You with their different sizes, it gives immense space to pack your different types of clothes easily
It's easy to unpack and stay organized.
We recommend you should buy this one as well, for many good reasons!
2. Foldable Lightweight Backpack:
What could be one thing that you believe is irresistible when you go for travel? Yes, you guessed it right. Its shopping! When you end up bringing more stuff then you packed, you need to have this fold-able lightweight backpack which accommodates a lot of things from your shopping list. Whether it is that stuff toy or few shoes and bags you got from the gift shop, this backpack is the go-to travel accessory for your family.
Why we love this because:
It has immense space to fit in all your stuff.
The space that is left empty is easily foldable and does not take extra space in your luggage.
Its best accessory to accommodate souvenirs.
Its durable and lasts longer than you can imagine.
Best for international travel.
Its multipurpose.
So, if you want to keep other things part from gifts, you can do it confidently.
3. Beach Cart:
If your vacation spot is a beach, you need to have this beach cart. Because when you have kids with you, trust me you would make at least 10 trips back and forth to the car to fix the mess your kids might have caused. In this helpless scenario, the beach cart is a life saver! The biggest benefit of the beach cart is that you keep all of your stuff in it once and head to the beach. Need something you don't have handy? Just pull it out from the cart and save the multiple trips to your car. These carts are specially designed for beach with wide wheels that can be easily rolled and easy to navigate.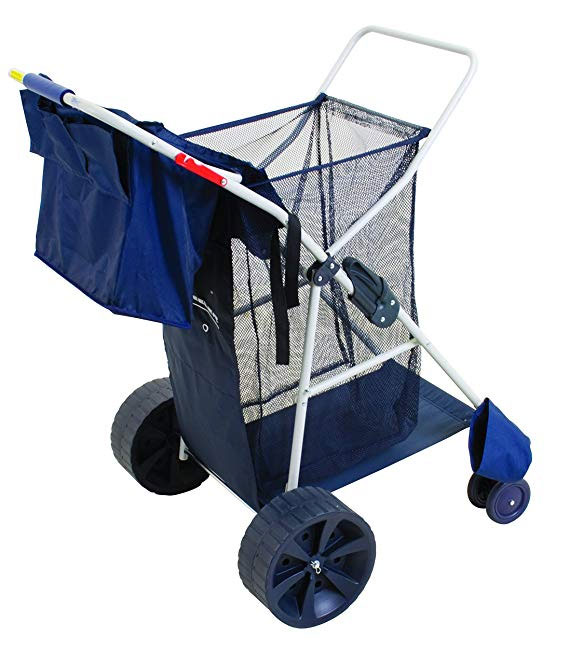 Why do we love this travel accessory?
It's easy to roll on the beach
It has vast space and fit in all of your important beach stuff
Its foldable and you can carry in your car easily.
4. Ultra Compact Portable Charger:
So there is not only cable organizer that you need, you must keep portable charger with you. In a simple language, keep power bank with you while you travel. Power bank is one of the best travel accessories that you will always love to have. Not only it helps you in long hours' travel, but also in your daily travel to and from work place. It helps you in keeping your gadgets charged and not losing any important call or message. Why do we love this travel accessory? Because:
It is multipurpose
Helps in charging cameras and other small gadgets apart from cell phones.
The battery lasts longer with only one-time charging.
5. UV Sanitizer:
Hygiene should be your most important concern while your travel. This becomes mandatory when you travel with kids. Meet your hygiene goals with the Ultra Violet Sanitizer which eliminates germs from your hotel room, or the gadgets you carry. Once you get this travel accessory, you will find yourself obsessed with it. Why do we love this? Because:
It removes bacteria 100%
It makes sure you remain clean and healthy during travel
Your kids remain healthy during travel
This portable sanitizer kills bacteria while charging at the same time.
6. Mobile Wi-Fi Hotspot:
If you are worried about overpaying the usage of cell phone while you travel anywhere in the world, we recommend you spend some money on mobile Wi-Fi hotspot. This hot-spot helps you stay connected in minimum cost, no matter what country you are staying in. The biggest advantage is that you can connect more than one device with it. Why should you have one? Because:
Few mobile hotspots work in more than 100 countries
It goes well with multiple travel partners
Connects to at least five devices at a time
You don't need to use public Wi-Fi and worrying about scams or getting your device hacked.
7. Universal Cable Organizer:
No matter how we want to remain detached with our tech gadget for a while, in this tech age, it is understandable that you definitely have to pack your tech accessories to keep up with your cameras, iPads, or cell phones. Regardless of this heartfelt desire, lets accept none of us want to remain away from these accessories moreover, this has become a necessity than just a luxury. So, lets come to the point: how you would organize unending cables from your tech gadgets? The answer is get a universal cable organizer. Why? Because: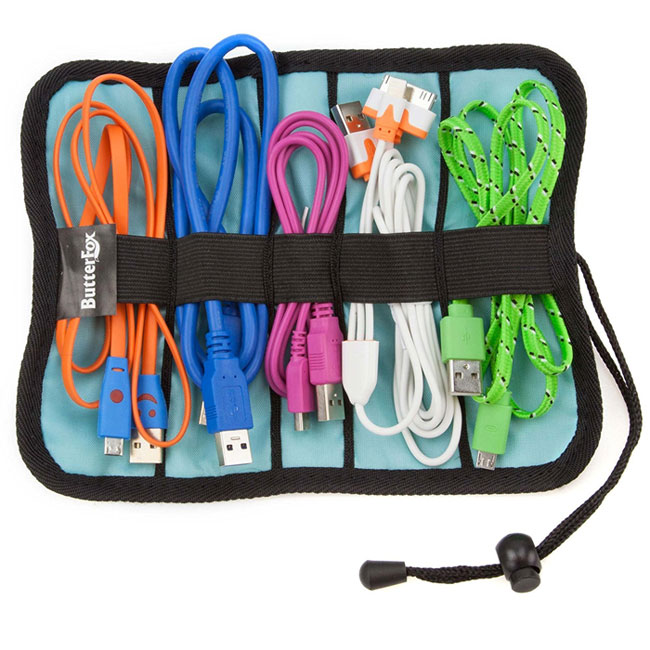 Keeps all chords in their place
They don't get tangled with each other
Easy to find you cables when needed
Cables don't get damaged
They remain safe and secure
8. Travel Document Holder:
Why not treat yourself and your travel documents with a bit of luxury and style? This travel document holder is absolutely stylish and one of the most practical travel accessories you could buy in 2019.
Why you should invest in travel document organizer? Because:
It protects your passport and travel documents from wear and tear
It is easy to use and carry
Your passport is secured from thieves and pickpockets
Your travel documents are organized and right in their place
It speaks of your own personal style
The wallet styled holders can accommodate more than one or two passports- even your credit cards.
9. Travel Wash Bag:
This travel wash bag is one of the best travel accessories to buy for your next itinerary. Your portable laundry system will do wonders for you whether you are on a weekend getaway camping on the beach or going on long summer vacations. You just need to fill, clip and roll, deflate, rub, rinse and finally line dry your clothes. The lightweight Scrubba Wash Bag is pocket size and lightweight.
Why we love this portable laundry system? Because:
It is lightweight, small and easy to pack
You can wash your clothes anytime anywhere
It washes your clothes faster!
It saves you money and easy to use
Your multipurpose travel bag: you can also use it as a dry bag or for you hiking and camping adventure.
Uses less water
Highly effective and worth buying travel accessory
These multi travel accessories make sure you travel with ease whether you are with your kids or your BFF. We recommend you to make a good purchase out of these accessories and we assure you that you won't regret your decision. For more interesting and useful posts stay connected with abeautifulmadness.net.