Long paths by road are often stressful and agonizing while short travels are usually unaccounted for. Nowadays, it does not really concern whether, you own a Buggati or an old car handed over to you from a stretched chain of ancestors, what really matters is if the journey traveled was memorable and comfy enough to add an extra bit of inconceivable joy into your lives.
The only way to attain such privileges is by acquiring a grasp of must-have car accessories available in the market these days. Not only does the must-have car accessories make your car look extraordinary cooler but, also help to anticipate and aware regarding any type of circumstantial ambiguities that might occur in the upcoming track while paving your way on the road.
Must-Have Car Accessories
As a matter of fact, making an acquisition of the must-have car accessories suits our needs gives our a car a better look, assist us along our route in various astounding ways, support us to maintain our vehicles and keeps our self-esteem uplifted sky high regarding our automobile. Let us take a glimpse on some of the must-have car accessories that have the capability to become a glorious part of our traveling lifestyle.
1. PowerAll Deluxe PBJS12000-R Portable Jump Starters
The time is long gone when we had to use jumper cables to the battery of another vehicle or carry a heavy battery in order to activate the engine of a dead battery automobile. Accordingly, PowerAll Deluxe PBJS12000-R is the answer to every query regarding a motor having a weak or dead battery on the road that requires a push start. Having an accessory of such amicable characteristics along any type of journey can save you from a lot of trouble and dependency for help.
Image by bhphotovideo.com
It comprises of a lithium-ion battery and is claimed to undergo 500 cycles per charge. Moreover, it acquires a battery capacity of about 12000 mAh and is viable enough to hook up an engine size capacity up to 6.4 liters. Also, it comes along with a reverse precautionary feature that can be useful in case, you have connected the jumpers the other way around. Click the link above, you wonder to add this accessory to your shopping cart.
2. FIXD: Your Own Personal Automated Mechanic
FIXD is the connection between you and your car. It is an excellent diagnostic tool for your car. The FIXD OBD-II Sensor has the capability of connecting to any vehicle of 1996 or newer models that run on gasoline. The FIXD OBD-II Sensor keeps you updated about your car's day to day condition and whenever there's something wrong you are already updated about it through the FIXD app by banners on your smartphones.
So, if you love your vehicle and want to maintain, monitor and keep track of your car's vitalities then, FIXD is no more than a charismatic bliss at your doorstep. Any type of car having OBD-II port conquers the criteria of having compatibility with this technology. FIXD is a sensory type gadget and when injected into your vehicle's OBD-II port, it helps you by illustrating immediately regarding any problem that might be undergoing within your automobile hardware. Furthermore, it also notifies you whenever any type of car service is due.
Image by Amazon
Above all, it is merely a car doctor and also acquires the astounding attributes of running diagnostics over the hardware segment of your automobile. Thus, every time you have to face a car mechanic, you are equipped with better information about what your car really requires. You can download its app from Google Play Store or Apple App store and lay back your worries in hand of this majestic device because another propelling feature it contains is that you will receive all the car parts from the FIXD maintenance club via this gadget, every time you need them.
This gadget is user-friendly, you can monitor multiple vehicles from one device and can easily ensure the complete safety of all your family vehicles i.e. their maintenance schedules. And you can also keep a track of their service& maintenance records easily. With its push notifications features, it lets you know whenever any of your cars are in need of a service or maintenance.
3. Add the Majestic Touch of Anker SoundSync Drive
Another jam-packed accessory that has won the hearts of many viewers is the Anker SoundSync Drive Bluetooth Car Kit. Plug in into the Aux port and feel the exquisite impact of having a hands-free conversation via car speakers while driving your vehicle. Furthermore, you can manipulate any type of music that entertains your suitability, throughout your driving venture, keeping your phone in the pocket. With this spectacular gadget at your disposal, you can acquire the clearest of all sound quality in music and during a call and it does not really matter even if you are paving your way with a swift of 50 miles per hour.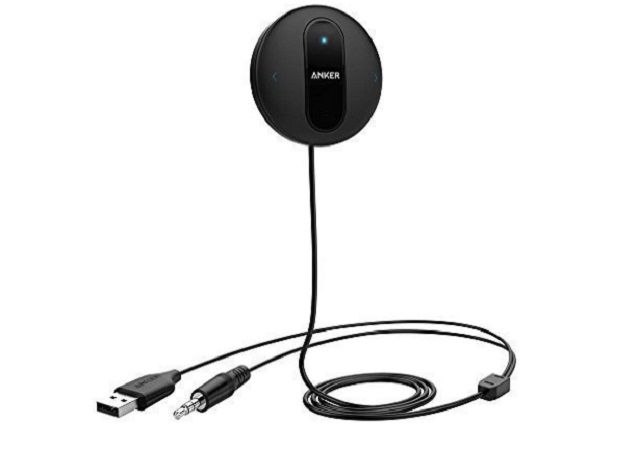 Image by Amazon
Just plug-in your Bluetooth device into the USB carport and switch it on and you will feel that you have accomplished your travel in a much effortless and joyful manner. This is among the best Handsfree car Bluetooth Receivers available in the market. You can use SoundSync to make your Bluetooth compatible cars completely Handsfree. It lets you fully enjoy all the features like playing music from your phones, receiving or making phone calls and much more. The SoundSync drive is speedy, reliable and provides high-quality sound experience owing to the Bluetooth 4.0 technology.
The interface is comprised of only three buttons that enable you to perform all the functions readily; like playing the music, pausing it, and making or receiving phone calls. It has an additional element that allows the user to activate Siri and other voice-controlled features for a safe and manageable drive. There is no reason to deny that this device lacks features like connecting multiple devices at a time and automatic switching but, keeping all records in perception, this device really takes the plate.
4. Nuvi Garmin Drive 51 LMT-S
A global positioning system (GPS) has become an essential part of every vehicle these days. Among all the versatilities present in the market, Nuvi Garmin Drive 51 LMT-S happens to be one of the best must-have car accessories. It is a complete package with all the absolute GPS features that a user could opt for. It is a mere glance at the technologies of the upcoming world. It not only guides you smoothly using the possibility of the best path towards a destination but, comes with astonishing features of traffic and weather alerts.
Image by Amazon
It is very easy to use; you just need to place this Satellite Navigation Nuvi Garmin Drive 51 LMT-5 in your car and then easily enjoy using the device with a 5'' touchscreen display. Moreover, it also comes with a lifetime free update of navigational maps for 45 European countries. You can enhance your user experience by downloading the Smartphone linked mobile app. It gives you live updates for example; live traffic scenario, availability of parking space and weather update.
Another amazing feature of this GPS Navigating system is that it notifies you about the variations such as sharp turns, speed changes, railway crossings, animal and school zones and last but not the least, it keeps your speed in check through its speed camera alert feature. Moreover, it helps you to acknowledge parking costs and vacancy of the particular area of your present position. The features are not over yet since it also educates you about speed limits on every road you run by and it arrives along with an attachable WiFi assisted camera that helps you to visualize every scenario within a compact formation. If you curious enough check the link above.
5. Opt for One of the Best Car Phone Holders
People usually get annoyed and frustrated when, they have to make an extra effort to find their phones in their pockets, dashboard, and car cabinets or especially when, a phone fells from your hand into your toes while, driving a car. In order to overcome such absurd scenarios, make way for TechMatte MagGrip CD Slot into your automobile and upgrade the ease and comfort in your driving lifestyles.
Image by Amazon
No wonder, this marvelous Smartphone mount occupies your CD slot but, in return it allows you to perform any mobile phone while keeping a keen eye on the road due to its cradle-free design, it does not obstruct the steering while you drive. The best feature of all is that you are educated at all times about your cell phone. Moreover, specifically, this mount comes with high tensile grip and entertains the user with great accessibility of injection and expulsion of the smartphone.
6. Window Breaker and Car Seatbelt Cutter
It is always good to be cautious and prepared for any accident especially when you are traveling. Any emergency situation can occur and you may find yourself stuck in a car. In that case, RESQME window glass breaker and seat belt cutter prove to be a really helpful device to get you out of the car.
Image by Amazon
This is one of the important must-have car accessories that you should keep in your car whether you are traveling to another city or just want a long drive on the weekend! This 2 in 1 window breaker and seat belt cutter is recommended for the driver which handy, safe and easy to use. It has a stainless steel razor blade, which does not rust due to weather conditions.
7. Car Key Finder
Let's accept, the car key is one of the most commonly lost items that we use. Thanks to Tale Mate car key finder which helps in finding car keys in no time.
Image by Amazon
This Bluetooth car key tracker is easily looped into the keychain which enables keys to be tracked easily. All you have to do is simply use the app to track your lost keys and this device will play a sound that helps you easily locate your keys.
8. Radar Detector
You may feel tempted to over speed your vehicle while you are traveling, which can also prove to be fatal. The radar detector helps you keep your speed in limits and prevents you from being issued a speeding ticket. How? Through this device, you can detect if your vehicle is monitored by a police radar gun, and helps you reduce your speed.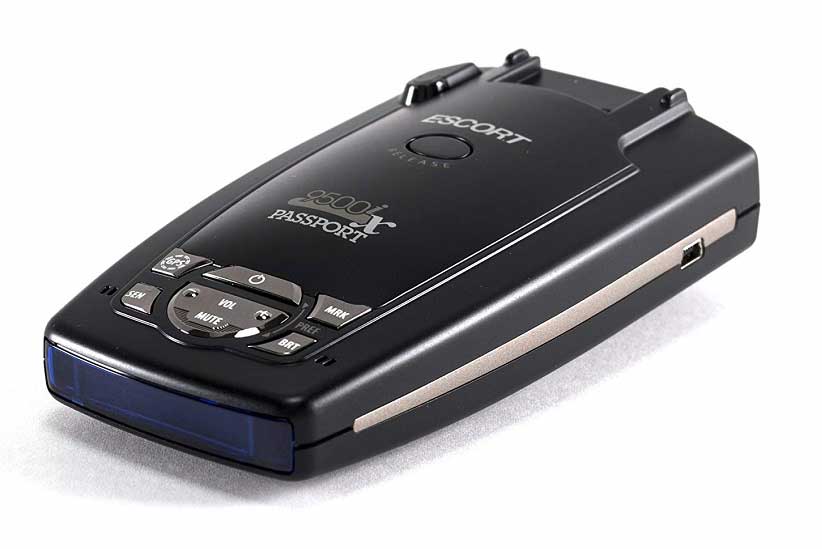 Image by Amazon
Escort Passport 9500 Radar is one of the must-have car accessories that we recommend the travelers to buy. Why? Because this radar comes with variable speed radar performances, safety warning system, brightness control, and voice alerts. You may find it a bit pricy, however, it is worth investing in to save yourself from paying heavy fines for the speeding tickets.
9. Rooftop Cargo Box:
Getting a cargo box on your car's rooftop is definitely a must-have car accessory this year for long-distance travelers. Thule's Motion XT XXL cargo box is not only stylish but also travel savvy and easy to fit. This cargo box has a smooth sidelock system with an indicator which clicks when the box is fixed. The biggest benefit of this cargo box is that it can be opened from both sides, hence, making it easy for you to access gear from both sides of the car.
What Difference does it make?
Every now and then, life on the road is escalating and people are getting used to spending more and more time on the road. From another point of view, if you take a glance, you might be able to see that automobiles are playing the role of a second home to many people. So why not turn our vehicle into the way we want? Why not equip all the desired must-have car accessories and make every journey wonderful and memorable? Not only it makes our road life easier but, excites the mere thought of going on the road.
So why shouldn't we spend a little on the car gadgets that will make an eminent effect into our absolute lives? It does not really matter whether, you are driving for the job, running an errand, going on a trip or hanging around without any reason, the only thing that becomes a bright segment of our memories is how we did it, not what was done.