Are you inspired by luxury beds you usually see in luxury hotels and want one for yourself? Well, you have landed on the right web page. Luxury beds may seem extravagant, but there's really not much you have to do to transform your simple looking bed into a luxe bed and get a celebrity style room. Just a few touch-ups can make a huge difference. It's totally achievable and that too without breaking your bank!
Luxury Bed Ideas
Starting off with tiny changes such as trimmings and tidying and heading over to some more demanding tips like new furnishings, this article is your guide to attain a gorgeous luxury bed for your personal space. It is up to you which design suits your budget and lifestyle. All you have to do is be creative!
Add Fancy Borders and Trimmings
Source: Flickr
Even a simple modification like the addition of trim borders on bed skirts can result in a luxurious-looking bed. A plain bedspread with printed borders, shiny ribbons, and jazzy trimmings can add another dimension to your master bed. Use colors that complement the interior of your bedroom. You can even go with ruffled bed skirts to get a royal effect. Bed skirts that drape down on the floor make a bold statement in the bedroom. They highlight the bed and make it appear lifted upwards, recommended for beds with unsightly legs. Use trimmings if your bed sheet is completely plain to avoid it look overdone. Don't overload your bed with frilly and furry textures. Let simplicity do all the magic!
Keep it Perfectly Made at All Times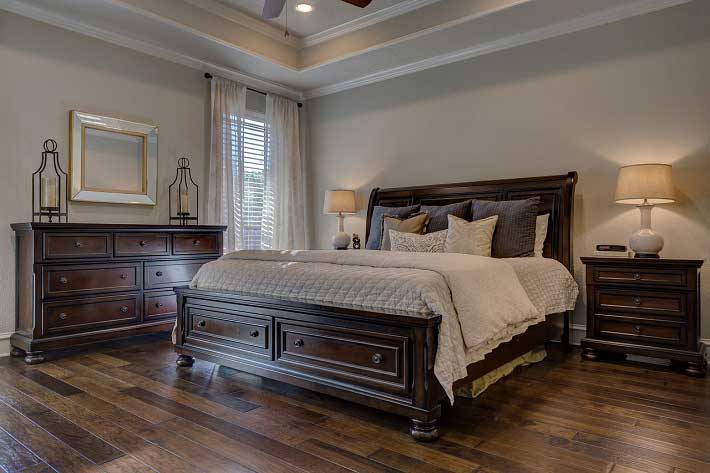 Source: Pixabay
One of the most prominent traits of luxury hotels is that they organize beds perfectly. And we all agree, anything that looks neat and well-thought-out is admired by everyone. This is literally the easiest and most affordable hack for a luxury bedroom. You don't have to do much, just put all the things where they belong, remove creases from your bed, and you'll get a stunning room in no time.
Place the Bench at the End of the Bed
Source: Flickr
What looks classier than a bench at the foot of the bed? Remotely nothing! And if it's in a woven bamboo and rustic seagrass design, it looks utterly modern. Some benches offer storage options with additional seating. Something as functional and attractive as this should not be missed out. Plus, it adds a natural touch to your room and looks refreshing.
Use Adequate Amount of Fluffy Pillows
Source: Maxpixel
I'm sure everyone loves plushy pillows, but too many of them can make your bed look overcrowded. To avoid a clumsy look, use different-textured pillows. They kill boredom and give off a much creative appeal. If you're a fan of too much fluffiness and can't seem to reduce the number of pillows, we recommend using different sizes of pillows. The small ones can take up tiny crevices left by the large pillows. You can have too many pillows without them looking too many!
Hang a Flowing Canopy
Source: Pixabay
There's no better way of spreading a romantic vibe throughout your master suite than hanging a canopy over your bed. It will give your room the luxurious serenity it needs. There are plenty of ideas to surprise your partner with a flowing canopy. You can simply suspend some of your pictures together with it to make for an excellent morning surprise. Little things like these strengthen your relationship.
Use Contrasts of Different Colors to Get a Popping Effect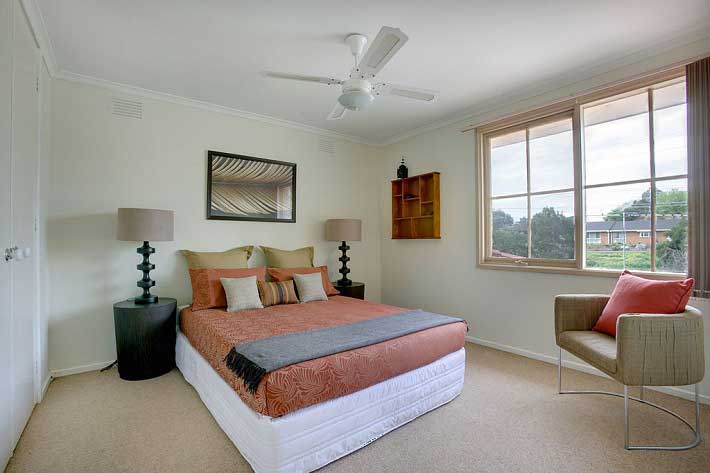 Source: Wikimedia
A contrast of light and dark makes for a funky appearance. Just make sure your bed color matches the rest of your interior otherwise it will simply throw off the look of your whole room. Choose the colors wisely making sure they are not too showy, dull or mismatched. The colors should be a perfect balance of light and dark shades. One of the recommended combinations is mauve (or any shade of purple), gray and silver. A little bit of brightness, a neutral tone and some shine; you cannot go wrong with this combo!
Add Flowery Patterns to Freshen Things Up
Source: Flickr
If you're a girly girl, glam it up with some flowery patterns! Use flower printed pillows, blankets, bedspreads and bed skirts to wow everyone. Just be sure not to go crazy with it. Moderation in everything would be best. For printed pillows, keep the sheet simple and vice versa. Luxury beds are all about sophistication, elegance and a little bit of creativity.
Choose Elegant Materials for Bed Rest
Source: Pexels
Bed rest is a major part of your luxury bed not just because it's the first thing that catches your eye, but also because it helps you relax. Keeping these two things in mind, it's only fair to opt for a bed rest material that is both aesthetic and comfy. You can go with materials like fur and velvet. Velvet gives a more royal feel and looks incredibly graceful.
Replace the Classic Bedside Table with Something More Creative
Source: Pixabay
Everything that's on your bed or attached to it isn't the only thing that can make it look extravagant. Things beside your bed also count. For a lavish-looking bed, you need to pay attention to every little thing associated with it; even the bedside drawers. Surely, you can get beautifully polished, high-quality wooden bedside tables, but why go with something so mainstream? Be unique and swap classic furnishings with a statement mirror, wooden crate, book shelves or even plant pots for a natural effect. Even if you don't want to go out on a limb, you can keep the conventional bedside table and just change the style a little bit; maybe something vintage. You can even opt for new lamps and decoration pieces to bring your bedroom to life.