The best way to explore the natural, unexplored beauty of a landscape is to hike through it. Sure, there are many scenic trekking locations throughout the world, but only a few are the best hikes like no others.
Discover the Best Hikes in the World
Here's our take on top 9 awe-inspiring best hikes for trekking.
Yosemite Grand Traverse
Image by Wikipedia
If you are an adventure enthusiast and wants to get your adrenaline pumping while exploring nature in all its glory, this is one of the best hikes in the world. Located in California, it goes through Yosemite Natural Park and partially through John Muir Trail, encompassing 60 miles. Here, you witness granite basins, waterfalls, lush green meadows, and a total nerve tantalizing, almost 90-degree hike/climb cable route. The best time to visit is through July to September and be prepared with supplies for a week because the trek takes almost 7 days to complete.
Tonquin Valley
Image by Wikimedia
For those looking for a serene, out of this world hiking experience, Tonquin Valley should be the absolute choice. Regarded as one of the best hikes in the world, it is located in Jasper National Park, Alberta, Canada. The natural landscape is so mesmerizing that the renowned environmentalist and photographer, Ansel Adams, explored its breadths for some eternally captivating shots. Be mindful of wildlife like grizzlies, cougars, and Elks. Your best friend hiking there will be your DSLR and some lenses. Best time to visit is from July to September, and you need 3-5 days to complete the trek.
Queen Charlotte Track
Image by Flickr
Ranked high among the best hikes in the world, Queen Charlotte Track is one of the most beautiful, well laid out, and maintained tracks for hikers. Located in New Zealand, north end of South Island, it elapses 44 miles of serene green landscapes with clear blue waters, mountains, and forests. The best part about the hike is its weather; you can visit it year-round. Though the track can be covered in as little as 3 days, we suggest to explore it thoroughly and spend 6-7 days for a lasting, cherishable memory.
Kalalau Trail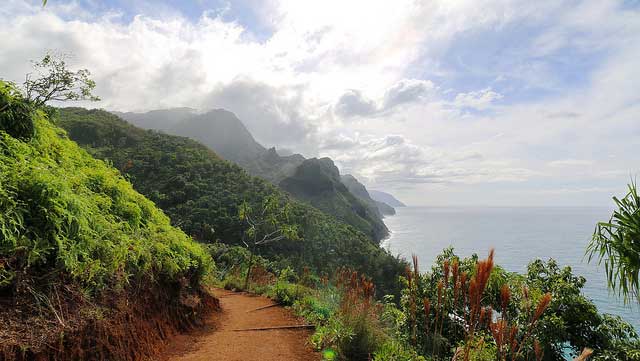 Image by Flickr
This entry on our list of best hikes in the world is for the ones longing for a lot of adventure and a summary beach. Located in Kauai, Hawaii, United States, the Kalalau Trail runs 22 miles through lush green tropical jungle, fascinating waterfalls, dangerously steep trials and almost a mile long Kalalau beach. It literally leaves nothing to be wished for. The track can be covered in 3 to 5 days, and the best time to visit is from May to September. If we base our ranking on the number of terrains a trail covers, then this one would be one of the best hikes in the world.
Tour Du Mont Blanc (TDM)
Image by Wikimedia
One of the few multi-country tracks, it crosses through France, Italy, and Switzerland, running 105 miles. TDM is one of the best hikes in the world for hardcore hikers and mountaineers. You will be greeted through glacial valleys, snowcapped mountains, and alpine meadows. Oh!, and did we mention you will also witness the magnificence of the highest mountain, Mont Blanc, in western Europe as you gaze its enormity from the base. The hike can be completed in 10 days. An ideal time to visit is from July to September.
Scottish National Trail
Image by pxhere
Located in the United Kingdom, the Scottish National Trail is the longest entry in our list of best hikes in the world because it covers almost everything that Scotland has to offer. The terrain gets tougher as you move along, and the landscape gets fascinating and fairy tale-ish as well. The 4 to the 5-week timeline may seem a stretch for most, but you can explore and cover as much as you can and start from where you left. Best time to conquer this marvel is April and May.
Trek to Petra: one of the most famous hikes in the world
Image by Flickr
Easily one of the best hikes in the world for the lovers of history, located in Jordan, Trek to Petra is the best Middle East has to offer. The trek offers once in a lifetime chance to explore the vastness of the Rose Red City, that is half as old as time, and is declared a World Heritage Site by UNESCO. The trek is tough to explore, as it exposes you to rough rocky topography, ridges, and gorges in the scorching heat. The best part of the trek is ruins of Petra which is still in abundance and is a sight to behold. The 50-mile trek takes roughly 10 days to cover, and you won't feel the heat if you visit in winter from October to April.
Cinque Terre National Park
Image by Pixabay
Located in Italy, the park actually offers multiple treks, but two prominent trekking sites for hikers are, the High Path, spreading over 22 miles, and the Blue Path, covering 7.5 miles. You get to explore the beautiful hilly yet coastal landscape of Liguria along with 5 beautiful towns. We highly recommend at least a week-long exploration expedition anytime from March to October.
Mukshpuri Top Trek: one of the best hikes in the world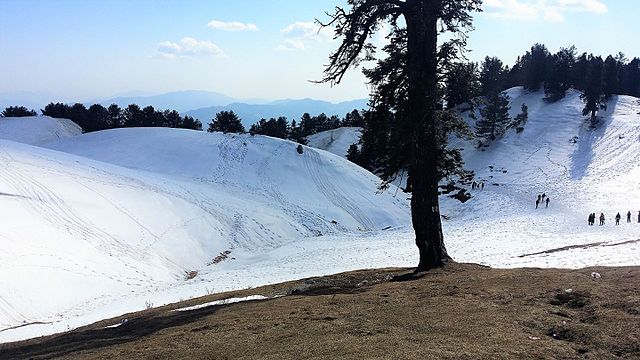 Image by Wikimedia
Situated in Pakistan, only a 55-mile drive from the capital Islamabad, this one is the shortest treks, 2.4 miles, yet one of the most eventful and picturesque. Mukshpur offers everything in a compact package. You can either choose to go through DungaGali or through NathiaGali, we recommend the latter, as you get the added view of Lalazar Park. Both routes will unfold beautiful conifer forests, refreshing meadows, lakes, and mountains that can rival the best of Switzerland. The best time to visit is from April to September. Though, from October to March, the trek remains accessible but is covered by snow mostly. While thinking for Mukshpuri Trek, you can also explore DungaGali – Ayunbia Trek, which is also in the vicinity. Although the trek is in a mountainous region, it is actually flat and doesn't require much effort. However, it offers plentiful scenery, refreshing air and breath-taking views of the valleys.
There you have it, the best of the best hikes in the world. Talk to your travel guide and start exploring the beautiful wonders.